Chicks Pick Gift Box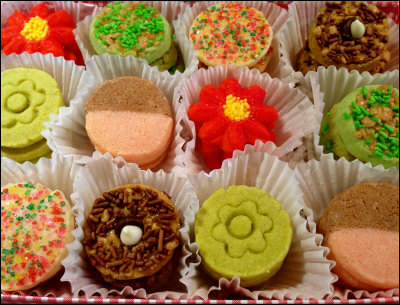 Product SKU:
Chicks Pick Gift Box
WHAT A BIRTHDAY GIFT TOO!!!
*Spritz Almond
*Pistachio Crunch
*Sugar Cookie Crisp
*Chocolate Toffee
COOKIES FROM SCRATCH IS A HOME BAKED COOKIE GIFT GIVING DELIVERY SERVICE FOR YOU AND YOUR FRIENDS. Order online for home or business.
A Chicks Pick rainbow palette of favorite cookies. Sure to brighten your taste buds, and friends alike. Send a box for a Birthday, Thank You, Anniversary, Shower, Get Well, Thinking of You or any Occasion, it's the most perfect gift!
Great Corporate or Business home style cookie gift box for the special Client, Employee, at the Closing, Recognition or Reward for the job well done. Everybody likes Homemade Cookies.
4 Dozen Petite Homemade Cookie Gift Box with Each Flavor Wrapped
Say it with Cookies From Scratch-----Choice Cookies from Wisconsin