A little closer to Milwaukee is the annual Christmas Cookie Sale Bakery
Open House,at 427 Yorkshire Drive in Colgate, WI.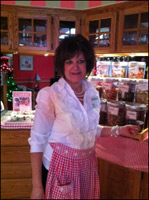 Laura Verage of CookiesFromScratch.com will be selling avariety of her holiday cookies the same weekend as the annual Monches Farms Art Tour, just a few miles away. Two years ago Verage sold her beauty shoppe to begin to turn her cookie baking hobby into a business. All her cookies are baked from scratch in a seperate kitchen in her home.
The sale, held from 9 am to 1 pm Saturday and Sunday, will feature 16 different types of cookies, including sugar cookie cut-outs, snowballs, molasses cookies and Verage's Oatmeal Cowboy Cookies. Cookies are sold by the dozen, priced by variety, with various gift packaging choices. Verage also takes custom orders for cookies at her website or by phone at 414- 355-9501. You can read more about cookiesfromscratch.com in this months issue of Country Woman magazine.
By Nancy Stohs - Food Editor of Milwaukee Journal Sentinel