Edible Art
When lifelong entrepreneur Laura Verage decided to launch a cookie delivery business 10 years ago, she knew her product needed to differentiate itself from its national chain competitors. Verage grew up baking and decorating cookies alongside her mother, so she vowed to incorporate what she enjoyed most about the process — its artistic freedom — into her product. The result is her promise to deliver gourmet cookies that are anything but normal, carefully striving to make each one unique and a true "piece of art."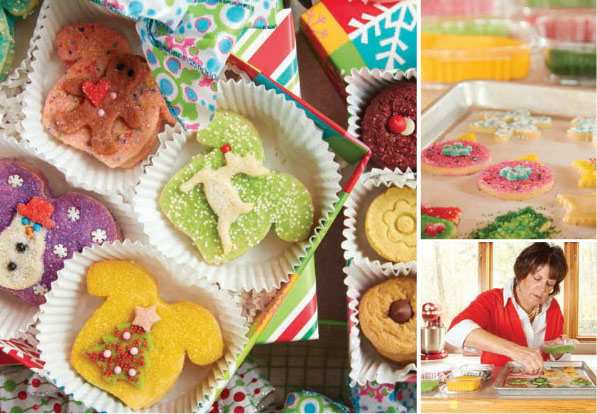 Verage, who spent the first 25 years of her career as the owner of a beauty salon in Brown Deer, operates her business from her home's full-range commercial kitchen in Colgate, where she lives with her husband Dave. Her business, aptly named Cookies from Scratch.com, delivers cookies to customers nationwide. Each cookie is made to order, and Verage uses only fresh, natural ingredients, sourcing from Wisconsin purveyors whenever possible.

Her most popular orders are the holiday-themed sampler boxes, which she begins preparing for each year in July. "I pay special attention to the packaging and presentation," she explains. "Those are things I can prepare for well before the holiday orders start to roll in." The boxes typically include one to four dozen Christmas cookies and are available in a variety of themes, including "Let It Snow at Christmas" and "Cookies for Santa."

Although Verage's primary focus is her cookies, she is mindful of the business power that lies in having a user-friendly website, and much of her business is generated from online orders. Her website, which recently relaunched, allows customers to view and order cookies for nearly every holiday and occasion, from Mother's Day and Halloween to Weddings and Wisconsin Badger football games.

Her business continues to experience sure signs of growth, consistently gaining exposure and popularity. Just this past October, Verage received a call from the producers of ABC's new prime-time show "Black-ish." The producers asked Verage to ship many box's of her signature Christmas cut-out cookies to Hollywood, and the cookies were included in the taping of the show's Christmas episode, which airs on ABC this month.

Despite the success of her business, Verage remains humble and committed to the integrity of her product, and she makes a conscious effort to regularly give back, most recently donating 1,000 cookies to the Clement J. Zablocki VA Medical Center in Milwaukee. "I turned a passion into a business, and it really never gets old," she adds. "It's very rewarding."

To place an order for delivery or see Verage's intricate designs, go to www.cookiesfromscratch.com.
BY JEN HUNHOLZ | PHOTOGRAPHY BY DAN BISHOP