Captivating Little Cookies Make People Happy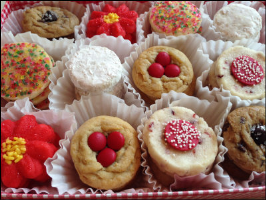 Christmas is the busiest time of year for a woman in the business of selling cookies, but Laura Verage of Colgate took some time to tell me about her passion for baking, and a little about herself. Laura and her husband David are both from Menomonee Falls, WI but actually met while on vacation up North. He's a cabinet maker and she owned a beauty salon in Brown Deer, WI for 25 years. The couple built their home in Colgate 19 years ago. Laura had grown up baking cookies with her mother, and as an adult, continued the custom of baking and giving away cookies as Christmas gifts. "People really look forward to receiving those cookies," said Laura. "And after a number of years, requests began coming from outside our circle of family and friends. I was getting requests for corporate gifts and weddings. So about half a dozen years ago, Laura converted her hobby into a business. Laura and David decided to build an addition onto their home, creating a separate kitchen devoted to the business, and have it state certified. I thought this quite a leap of faith. "I never thought about it, "Laughed Laura. "My parents were self employed and I was already in business for myself, so I just went forward. I'm pretty good at marketing myself too."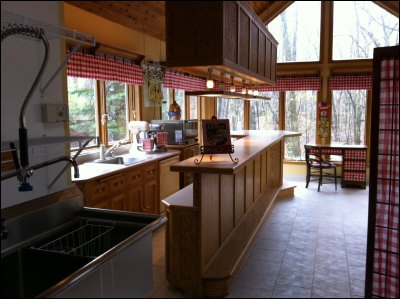 It took about three or four months to get the kitchen up and running. (It helped to have a cabinet maker for a husband, and whose brother is a builder!) Laura had a web site created and between that and word of mouth, she was able to start filling orders right away. The business grew steadily, and three years ago, Laura sold her salon and has immersed herself in "Cookies From Scratch.com." Laura's signature color is red, and for the business in particular, red gingham. Her gift boxes, bows and web site all sport shades of red. "I was Little Red Riding Hood for Halloween this year," she said, "and instead of Toto in a basket, I had cookies and business cards!" Laura's favorite words for describing her products are "petite," and "scrumptious." "My cookies must taste and look scrumptious, " said Laura. "I also like to call them petite treats. With a big cookie, you eat one and your done. With these, people can sample a few different kinds," Types include chocolate chocolate chip, sugar cookie crisps, spritz almond, cranberry crumble and peanut butter and jelly. When you look through Laura's cookie collection, take a few minutes. Because there are a lot of choices, Homemade Sampler gift packages have become the most popular. Also for sale are an extensive - make that colossal - collection of cookie cutters: Alligators, Baby Bottles, Christmas Trees, a Doghouse, Footballs and even a Kangaroo to name a few!
Orders are taken on line or over the phone (414-355-9501), but Laura has developed a number of other outlets to establish herself. She has just completed her second year at the West Bend WI Farmer's Market, with her able assistant, David. "This is such a wonderful, large market," said Laura. "We just love being there and we've made a lot of friends." Her booth sells coffee and cookies. An order of just coffee comes with a free cookie. Cookies are displayed in jars and people are able to point and choose, or again opt for the sampler package. Laura also participates in the Burlington Chocolate Festival every Memorial Day Weekend. It's a four day affair and immensely popular. "It's a totally chocolate experience," said Laura. "Chocolate lovers have to go there. We're inside an air conditioned building so nothing melts." Take a look at the national Christmas issue of Country Woman magazine, for a half page spotlight on Cookies From Scratch . Com. Laura even teaches cookie making classes, so I wondered if it ever gets to be too much. "I never get tired of tasting cookies or trying new ones," said Laura. "They have to be perfect before I release them."
By Sheryl Popp - Feature Writer Editor of the Sunday Post