Cookies From Scratch.com Featured in the National Country Woman Magazine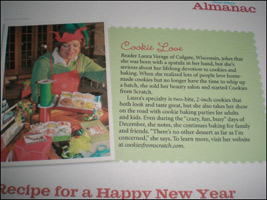 Cookie Love Reader Laura Verage of Colgate, Wisconsin, jokes that she was born with a spatula in her hand, but she's serious about her lifelong devotion to cookies and baking. When she realized lots of people love homemade cookies but no longer have time to whip up a batch, she sold her beauty salon and started Cookies From Scratch.com.
Laura's specialty is two-bite, 2-inch cookies that both look and taste great, but she also takes her show on the road with baking parties for adults and kids. Even during the "crazy, fun, busy" days of December, she notes, to continue baking for family and friends. "There's no other dessert as far as I'm concerned," she says. To learn more, visit her website at cookiesfromscratch.com.
By Sharon Selz - Senior Editor of Country Woman