Butterscotch Oatmeal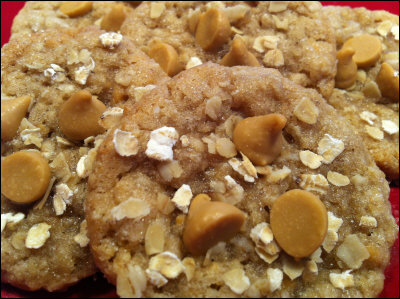 Product SKU:
ButterscotchOatmealHoney
$0.00
Please Call for Availability
WHAT A BIRTHDAY GIFT TOO!!!
If your looking for something delciously sweet and old-fashioned, you can hardly do better than this grandmotherly butterscotch (2") oatmeal goodies. Remember your family and friends with a Cookie Care Package.
Featured on ABC & Fox News, Country Women Magazine, M Magazine and Milwaukee Journal Sentinel.
August's Cookie of the Month is Butterscotch Oatmeal !!!
COOKIES FROM SCRATCH IS A GOURMET COOKIE GIFT GIVING DELIVERY SERVICE FOR YOU AND YOUR FRIENDS. Order online for home or business.
Looking for a Gift - Order Homemade Cookies Today for the Birthday, Anniversary, Shower, Thank You, Get Well, Thinking of You or the Celebration. It's the perfect scrumptious fit for everyone.
Great Corporate or Business best cookie gift box for the special Client, Employee, at the Closing, Recognition or Reward for the job well done. Who Doesn't like Homemade Cookies ?
Say it with Cookies From Scratch-----Home Baked Cookies from Wisconsin