Molasses Gingerbread Sugar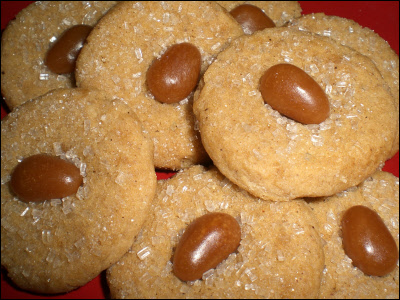 Product SKU:
MolassesGingerbreadSugar
(2 DOZEN) People can't get enough of the molasses, cloves and nutmeg combination, giving the 2 inch cookies an old-fashioned charm. FYI Gingerbread molasses dates back to the Middle Ages. Women gave knights hard, spiced cookie-like cakes before jousting competitions. Gift Giving Home Baked easy with Cookies From Scratch.
September's Cookie of the Month is Molasses Sugar !!!
COOKIES FROM SCRATCH IS THE BEST COOKIE GIFT GIVING DELIVERY SERVICE FOR YOU AND YOUR FRIENDS. Order online for home or business.
All Occasion Favorite Cookie Gifts for the Birthday, Anniversary, Shower, Thank You, Get Well, Thinking of You, or the Day that needs Celebrating !
Great Corporate or Business cookie gift box made from scratch for the special Client, Employee, at the Closing, Recognition or Reward for the job well done. Everyone likes Homemade Cookies.
Say it with Cookies From Scratch-----Gourmet Cookies from Wisconsin